Kidz University Summer 2017
Dates:

Tuesdays and Thursdays, July 11,13; 18, 20 6:30 - 8:30 PM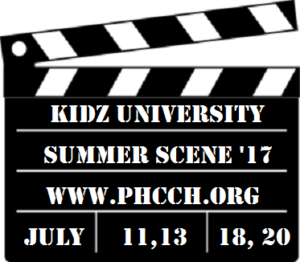 Family Time Every Night at 8:00 PM
Join us each evening as we wrap up the night to connect with other families over watermelon, or smores, or sno-cones
or even ice-cream treats from the Ice Cream truck!
In the same way, the Son of Man did not come to be served.
The Son of Man came to give his life to save many people.
Bible Lessons from God's Word that help kids live out the truth of God's Word.
Fun Games outside every night!
6:30 - 7:00 - Fun in the Sun
7:00 - 7:30 - Exciting Songs and Interactive Bible lessons
7:30 - 8:00 - Skills Classes for All Ages
8:00 - Family Fun Time with Mom and Dad
Skills Classes for all ages (Grade just completed):
Nature Crafts (Completing Grades K-2)
Each night students will make an amazing a fun craft using supplies from nature.
Campfire Basics (Completing Grades 3-5)
Students will learn from an Eagle Scout how to build a campfire, how to cook over a campfire and safety around a campfire.
Build a Bird Feeder (Completing Grades 3-5)
Students will build their own bird feeder. Skills will include, sawing, drilling, sanding, painting and assembly.
Special for Summer Scene '17!
(Completing Grade 5 ONLY)
Students will work together to make a video of the weeks events and will do basic editing and adding music for a final presentation.
Registration Fee is $7.00 per student and $20.00 for 3 or more in one Family