Renovation: Christ Together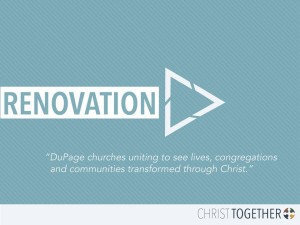 In January of 2010 several churches in the South Wheaton and Glen Ellyn area came together to ask two questions: What does God want to do in our community and What would it look like if God got his way? These questions speak to the heart of God's mission in the world. As the local expressions of the Body of Christ we desired to be faithful to this calling, yet we also recognized that our different backgrounds, expressions of faith, theological distinctions, and competitiveness, keep us apart. We were convinced, however, that if we chose to make the mission of God our primary pursuit we could lay aside much of what has separated us. What if our goal was that every man, woman, and child living in proximity to our churches had a repeated opportunity to hear, see, understand, and respond to the gospel of Jesus Christ?
To this end, pastors began meeting twice a month for over a year. We prayed together, laughed and cried together, and worked through materials by Dr. Dwight Smith. Not only did this give us a common language and perspective, but more importantly, it built a container of trust. We came to a place where we can trust one another with the resources God has given our respective churches. Pleasant Hill became part of this group in September of 2014 as the group expanded its reach.
There will always be a need for different churches and expressions of faith. But this one thing is clear; the calling God has given us is greater than any one church can accomplish. However, if we unite around the mission of reaching every man, woman, and child with the gospel in the Central DuPage community, and mobilize our resources to that end, we can complete the mission God has given us.